Article content
Singapore, Singapore–(Newsfile Corp. – January 12, 2023) – Honor World, an innovative GameFi platform that combines NFT & DeFI introduces 2 new Play-to-Earn Games on its platform, namely NFT Farm and Dragon Treasure. One more game, NFT Park, is next in line for the launch. With the introduction of these new Play-to-Earn gaming titles, Honor World continues to grow as an NFT & DeFi platform.
Article content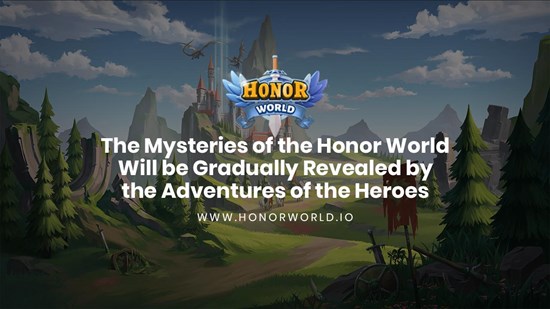 Honor World
To view an enhanced version of this graphic, please visit:
https://images.newsfilecorp.com/files/8717/150871_000875b2b46dfa01_001full.jpg.
Honor World's plans to effectively integrate DeFi, NFTs, and Game-Fi to deliver a sustainable Play-to-Earn model to users. And the number of users registering on the platform and the total volume of transactions are growing every day.
About the Honor World Ecosystem
Developed on the Artibrum blockchain, Honor World follows the principles of DAO (Decentralized Autonomous Organization), wherein the power lies in the hands of the community. Artibrum seemed the optimal network for a project of this magnitude, primarily owing to its enhanced speed and security.
Article content
Decentralized projects offer all involved parties an option to contribute to the growth of the platform, and the same is the case with Honor World. It encourages everyone to participate and assist in the development. People can create NFTs and showcase on the platform. Developers can create games on Honor World, with the platform providing the infrastructure and resources for it. Users get voting rights on critical changes and can decide the future course of the project. Another vital aspect of Honor World is that members enjoy ownership of the assets, i.e., the platform's native token and the core NFTs.
CertiK, one of the top auditing firms in the blockchain space, has already audited Honor World, including its smart contracts. Besides the audit, the team regularly scrutinizes every single aspect of the project for issues that might hamper the user experience or growth of the platform.
Article content
Honor World offers exciting and mesmerizing gameplay with farms, dragons lurking around in the mountain, and countless treasures waiting to be discovered.
Tokenomics in Honor World
The total supply of the token is capped at 1,000,000,000, which will follow a release schedule, i.e., 40% would be available in the first year, 22.5% in the second, 17.5% in the third year, and 12.5% and 7.5% in the fourth and fifth year respectively.
In addition to that, Honor World will regularly buy back tokens through the DAO vault using the ETH/USDC funds, all of which will be burned, thus reducing the total number of tokens in circulation. 
With a well-researched economic model, user-oriented gameplay, and policies in line with the market dynamics, Honor World is set to be an exciting part of the blockchain gaming space.